My setup
1)Sony actioncam asr-15----I shoot the video with it
2)Phone---Android phone, running th elatest version of racechrono
3)PC----using dashware to create the overlays
4)Elm---Chineese OBD reader---works great with torque
What I would like to do is shoot video with the sony, use the phone to capture the following information:
speed----from obd not gps, more accurate
gps cordinates-----internal phone gps for track position
acceleration-----from phone's gyro, not gps interpolation
rpm----obd
throttle position----obd
I used racechrono today at autocross and when I got home it looks like the software used the gps for acceleration measurements, gps for speed and I saw no obd data in the exported file. Also the time column in the csv file had epoch time as opposed to elapsed time. If I exported the file for dashware I had to rename the time column. Basically exporting as RaceRender2/Dashware did not work unless I manually changed the time column to Timestamp. Also what Orientation does the phone have to be for the internal gyro data to be correct, is there a way to calibrate/verify within racechrono, should it be landscape or portrait?
This is the video I ended up with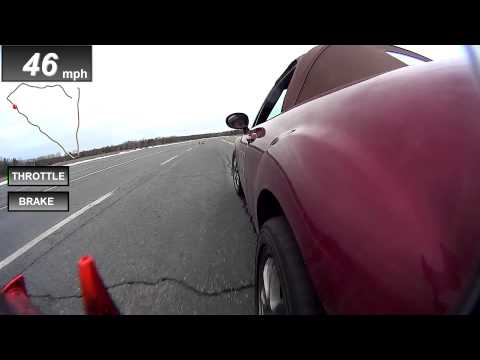 __________________